Vision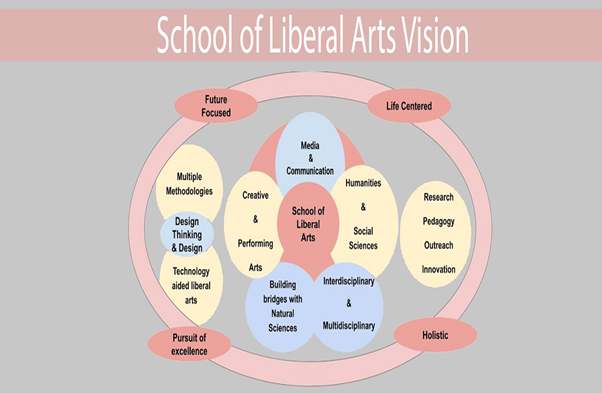 The vision of the School of Liberal Arts is to emerge as a forerunner in Liberal Arts education. We believe in a novel, open, futuristic, trans-disciplinary, and inclusive liberal humanist approach, that not only engages with the human, the non-human, and the planetary, but also recognizes and amplifies the diverse possibilities and potentials of human-technology interfaces as both agents and sites for social change' (SoLA Vision Document, Annexure 1, pg. 17). The SoLA will have a broader vision, seeking to break the silos created by disciplinary boundaries and reimagining the educational structure. Through an open approach it will strive to equip and enable students for the challenge of the future, while turning them into global citizens and able thinkers with an awareness of the needs and demands of contemporary society.
The goals of SoLA will include:
1. To engage in foundational as well as socially relevant and benevolent research in the areas of Liberal Arts, to aid and guide the technologies developed to bring solutions for constructive
2. changes in society and human life.
3. To contribute towards nation-building.
4. To enable and equip students to contribute to future societal needs.
5. To formulate a sustainable financial plan that may create value for the organization.
Mission
The SoLA at IIT Jodhpur has been founded on the principles that quality education in the Liberal Arts is a primary requisite for solving the multidimensional challenges that our current and future generations face. In operationalizing this core principle, the research, pedagogy, and outreach at the SoLA will be life-cantered with a particular emphasis on recognizing and amplifying disciplinary intersections in the Creative Arts, Humanities, Social Sciences, Natural Sciences and Technologies.
To achieve this goal, the SoLA will have the following objectives:
1. To promote holistic and experiential learning for students facilitated by educational technologies and pedagogies which help in developing creative and experimental aesthetics through collective imagination.
2. To collaborate with stakeholders in addressing societal and environmental concerns through high quality, socially beneficial, foundational, and impactful solutions via an adoption of a transdisciplinary approach.
3. To create a distinctive research ecosystem that will significantly inform novel teaching programs in emerging inter and transdisciplinary areas that remain considerably underexplored in the arena of Indian Humanities and Social Sciences.