MASTERS IN COMPUTATIONAL SOCIAL SCIENCE (MSc. CSS)
The Masters in Computational Social Science (MSc. CSS), which commenced in July 2022, is the flagship program of the School of Liberal Arts (SoLA), Indian Institute of Technology (IIT) Jodhpur. The program seeks to develop highly-skilled graduates equipped with theoretical, technical, and application-oriented knowledge that will enable them to construct, improve, analyze and apply theoretically-informed models to understand processes and phenomena. Bridging disciplines and technical expertise, this program is also in line with the National Education Policy (2020), and also with the Government of India's Vision 2047 which seeks future skill sets for a future society.
Program Description: In the first year, students are exposed to introductory papers in the intersection of social science and computational methods (including Statistics, Programming in R, Machine Learning, Data Visualization etc.). These are aimed at preparing students to undertake tasks in data analytics and to derive insights.
1. Fundamentals of CSS 2. Social Science Research Methods I 3. Perspectives in Computational Sociology 4. Understanding Social Realities 5. Principles of Macroeconomics 6. Ethics for CSS 7. Seminar in CSS 8. Introduction to Computational Methods for CSS 9. Social Science Research Methods II 10. Introduction to Policy Analysis 11. Individual and Strategic Decision Making: Theory and Applications 12. Microeconomics I 13. Machine Learning 14. Peer Learning: Preparation for Project
In their second year, students will be able to specialize in: (1) Computational Sociology (2). Mathematical and Computational Economics [or] (3) A Guided Curated Option for those who would like to opt for courses from both streams.The final semester of the course requires students to undertake a compulsory project at a relevant business / company / industry; or, at an academic organization.
Graduate Outcomes: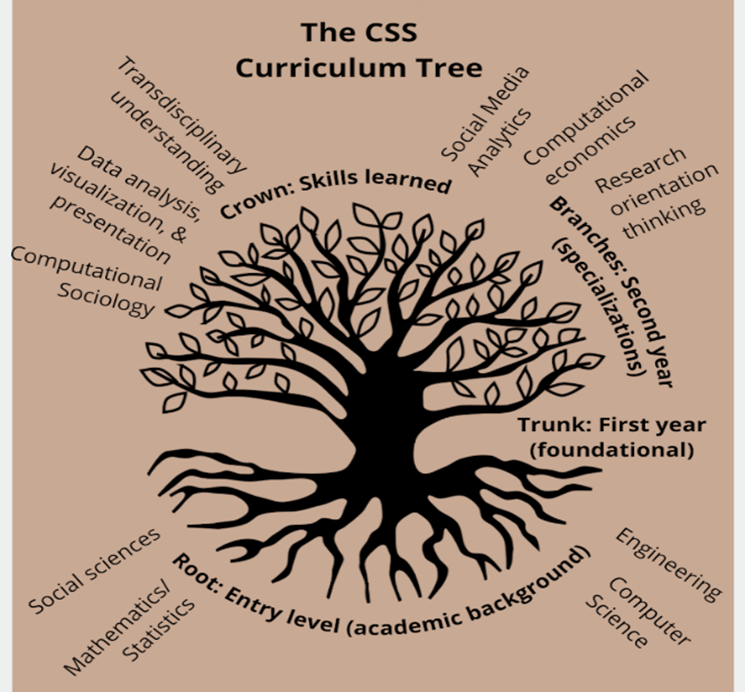 The program envisions the development of students who will be professionals and global citizens who:

know how social science queries can be approached through data-driven tools and approaches.
have a good theoretical understanding of the intricacies of social systems and be proficient in handling social data for practical applications
have a competitive edge in knowing how data in the social sciences can be visualized and analyzed by computational methods
have research-oriented thinking and will be able to explore social phenomena without traditional disciplinary or methodological constraints.